FieldNotes - Answers Library
This section provides a miscellany of information across a range of topics that you may encounter whilst using FieldNotes. These include descriptions of procedures or methodologies associated with wildlife recording, lists of commonly-encountered issues and hints on specific features and functionality of the software.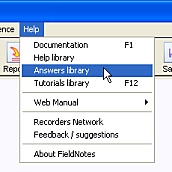 Accessing Answer Pages
Answers topics can be viewed
from within
FieldNotes
using
the menu.
The topics are split into three sections: Measurement protocols, Sampling techniques and Classification sytems.
There is also a section of Hints (mini-tutorials) covering commonly-encountered procedures, and a collection of Frequently-asked questions which address specific queries.
Finally the compendium of additional Resources may be useful to FieldNotes users.
1. Measuring and Mapping the Environment
Common procedures and scales for estimating environmental factors.
2. Sampling Methods and Protocols
Sampling methods and measurement protocols for habitats and ecosystems.
3. Classification Systems
Classification schemes applied in different environmental disciplines.
4. Hints (mini-tutorials)
Tutorial-style guidance covering a miscellany of commonly-encountered procedures.
5. Frequently-asked Questions
A collection of frequently-arising questions addressing specific queries.
6. Resources - Organisations and Suppliers
A compendium of additional resources, information and contacts that may be useful to FieldNotes users.
| | |
| --- | --- |
| 6.1 Wildlife-recording | Organisations primarily involved in recording wildlife and monitoring the natural environment. |
| 6.2 Wildlife Organisations | Generalist and specialist associations offering information and advice about species, groups and habitats. |
| 6.3 Map Resources | Map-related information and resources, |
| 6.4 Training Resources | Courses / Training in ecology, biology and environmental sciences. |
| 6.5 Equipment Suppliers. | Sources for specialist natural history equipment. |
Notes
FieldNotes Answers pages are intended to provide information about specific procedures (measurement protocols, sampling strategies, classification systems, etc), and commonly-encountered issues.
If you need detailed information about software functionality, please refer to the FieldNotes Help documentation.
If you need guidance on specific procedures, please refer to the FieldNotes Tutorials.